Set in an alpine valley and surrounded by the majestic peaks of the Dolomites, Cortina d'Ampezzo is a perfect destination for an unforgettable holiday. We are sure you will appreciate Cortina for the spectacular scenery and mountains that surround it, as well as for the local food and traditions. But you will be surprised by the many shopping opportunities it offers.
A wide variety of small shops selling traditional products and designer boutiques are one extra tourist attraction of Cortina d'Ampezzo. Tourists can have a great time shopping in Cortina, the Queen of the Italian Dolomites.
Carefully crafted and finished handicrafts, souvenirs and gifts are famous for their beauty. The diversity and beauty of Made in Italy products are appreciated by different people from all over the world, even by those with tastes and habits far removed from the Italian culture.
The handicrafts made in the Ampezzo Valley are true works of art. Local artisans are known for certain crafts including woodworking, tarkashi, filigree and jewelry, and interior decorations. Don't forget to visit the stores that sell such items.
If you are missing an accessory or a part of your skiing or snowboarding equipment, you will find a shop where you can buy everything you need.
After an adventurous day of skiing or hiking in the mountains, you can spend the afternoon strolling along the Corso Italia pedestrian area. Here you will also find many cafes or bars where you can have a snack or you can take a walk sipping a glass of mulled wine and some roasted chestnuts. Most of the stores sell clothing and footwear or rent sports equipment and accessories.
Corso Italia, Cortina d'Ampezzo
The most popular shopping area in Cortina d'Ampezzo is the Corso Italia pedestrian way. Here one can find famous fashion and clothing brands, and designer boutiques. The quality of all products is exceptional, one can buy from the clothing, sports equipment, jewelry, antiques to arts and paintings.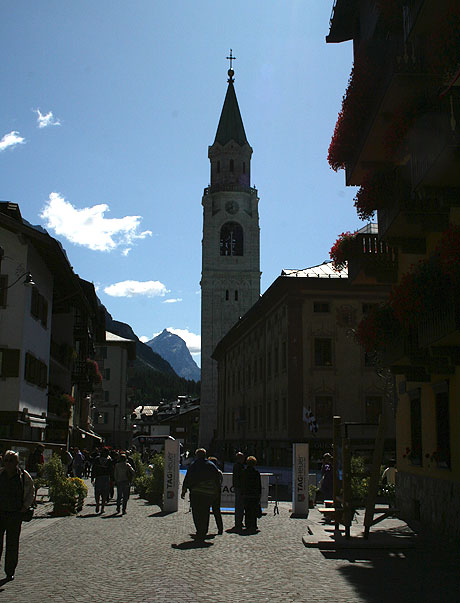 Shops in Cortina open around 9:00 AM – 12:30 and 15:30 to 19:30. During the ski season, the shops are open for a longer time but they usually close around 20:00. Some shops are closed on Sundays and bank holidays.
In the Corso Italia area, you will discover many shops with products of all kinds: gifts and souvenirs, traditional products from the region, interior decorations, antiques, jewelry, but also sophisticated boutiques that sell clothing and footwear from famous brands.
Here are some of the shops, in no particular order, that you will find in the pedestrian area of Corso Italia. This is by no means an exhaustive list, in fact, there are many more stores. Explore the area and you will find something to your liking.
La Cooperativa di Cortina
Address:

Corso Italia, 40 - 32043 Cortina d'Ampezzo

Hours:

Weekdays: 08:30 - 19:30; Sunday: 9:30 - 19:30
With several floors and an area of over 4000 square meters, Cooperativa di Cortina is the largest department store in the Italian Dolomites. This is a perfect place for shopping. You will find a wide range of goods and products of all kinds: clothing, souvenirs and gifts, grappa and wines, local delicacies, traditional products, and just about anything you can imagine.
North Face Store
Address:

Corso Italia, 124 - 32043 Cortina d'Ampezzo

Hours:

9:00 - 12:30, 15:30 - 19:30
North Face is an American brand founded in 1964 and specialized in outerwear, apparel and gear. Initially, North Face products were designed for climbers, hikers, and athletes. The company's slogan, Never Stop Exploring, is a perfect summary of its philosophy: the constant search for new things and the creation of quality and comfortable sportswear and casual wear.
Patagonia Store
Address:

Via Cesare Battisti, 2/4 - 32043 Cortina d'Ampezzo

Hours:

Monday to Saturday: 9:00 - 12:30 and 15:30 - 19:00; Sunday: Closed
Patagonia is not only a simple brand that produces quality outdoor clothing and gear but is also recognized for its integrity and environmental advocacy. Patagonia is one of the most popular and desirable outdoor brands among nature lovers. The Patagonia store is located in the central area just 100 meters on the left before the Basilica Minore dei Santi Filippo e Giacomo in Cortina.
United Colors of Benetton
Address:

Corso Italia 50/a - 32043 Cortina d'Ampezzo

Hours:

10:00 - 20:00
Benetton Group owns the United Colors of Benetton and Sisley clothing brands. The casual clothes and accessories produced by Benetton stand out through their vivid colors.
Moncler Store
Address:

Corso Italia, 98 - 32043 Cortina d'Ampezzo

Hours:

10:00 - 13:00 and 16:00 - 20:00
The Moncler boutique in Cortina d'Ampezzo is a unique space where the story of the brand comes to life. Moncler was founded in 1952 in Monestier-de-Clermont, an alpine town near Grenoble, France. The company is famous for the jackets it produces.
Geox Store
Address:

Corso Italia, 136 - 32043 Cortina d'Ampezzo

Hours:

09:30 - 13:00 and 15:30 - 19:30
Geox is an Italian brand for men, women, and children, known especially for waterproof and breathable shoes, but also clothing.
Please keep in mind that the operating hours may change on short notice. Always check the hours online before you go.
Go to top