Cortina d'Ampezzo is a modern resort, whose skiing slopes invite, during winter, people from all over the world to engage in pleasant encounters with themselves and the snow around. Actually, it was in Cortina that the 1956 Winter Olympics were held, while in 1988 it came second on the list of preferred locations, immediately after Calgary, Canada, where the games finally took place. For those who consider that skiing is a little too daring, there are always cross country races and snow bob expeditions to look forward to, not to mention the old fashioned sledging that can be enjoyed.
In summer, walking along the mountain paths, boating on the streams or lakes may make your stay pleasurable and build an appetite to match the wide variety of dishes served at the numerous restaurants and snack bars that await tourists in Cortina d'Ampezzo and environs ("Cinque Torre", "El Toula", "Tivoli", "Leone e Ana" etc).
The 64 hotels and apartments for rent which are available offer visitors the possibility of choosing the appropriate accommodation facility in keeping with holiday budget and personal preference. Generally recommended are: "Miramonti Majestic Grand" (5 stars), "Cristallo Palace Hotel & Spa" (5 stars), "Alaska Hotel" (4 stars), "Mirage Hotel" (4 stars).
Shopping needs to be mentioned also, as an alternative for sports or sightseeing. Fashion boutiques, artisan shops, craft stores and antiquarians, together with larger shopping centres like "La Cooperativa di Cortina" are places you can go to and find the very best in international and local brands and products.
Official Website: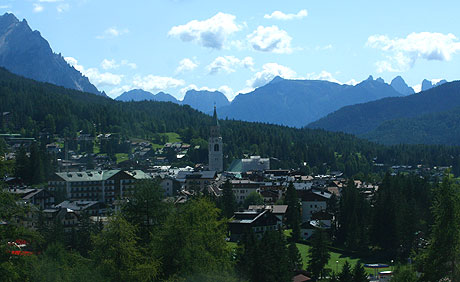 Go to top