Protectively embraced by the Dolomite Mountains (in the North-Eastern area of Italy, near the Austrian border), Cortina d'Ampezzo is a fresh and picturesque resort, formerly a conglomeration of small villages and isolated hamlets.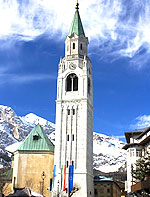 Pomagagnon (to the north), Cristallo (to the north-east), Faloria and Sorapiss (to the east), Becco di Mezzodi, Croda da Lago, Cinque Torri (to the south) and Tofana (to the west) guard its urban and natural surroundings – stony walls enclosing the hidden treasure of the "Dolomite Pearl" as Cortina has come to be known.
The altitude the town is located at (1224m) makes the air crisp and brings the sky within a reachable distance; it keeps the rhythm of life alert and perfectly harmonises man with nature. The fauna and flora specific to such heights are attractions in themselves; marmots, roe deer, chamoises and hares populate the Ampezzo Valley and may be seen "at home" in the green, lush, half wild mountainous vegetation of the area. Discover more about Cortina
Hotels in Cortina d'Ampezzo
Go to top
Hotels Booking
The best offers and prices for your holiday!
Residences in Cortina d'Ampezzo
Go to top
Bed & Breakfast in Cortina d'Ampezzo
Go to top
Campings in Cortina d'Ampezzo
Go to top